Agent Referrals
Let us be your partner in Property Management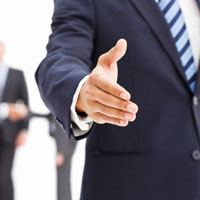 Why are the top producing Realtors in West Michigan referring their real estate investor and landlord clients to Qwest Property Management? Because they know the property management company, they refer is a direct reflection of their own service provided to their client and Qwest Property Management understands the importance of the relationship between the client and their Realtor.
Realtors know that eventually they will be asked by their clients if they will either provide property management services for them or if they know of a property management company that they could refer to them. Smart Realtors know that property management is a completely different service than brokering sales, and frankly, the value of their time is not spent chasing tenants for delinquent rent. The best use and value for their time is spent closing sales transactions!
Think of Qwest Property Management as a complimentary service, another tool in your tool belt which you have and can use when you have a client who is thinking of renting their home vs selling, or when working with established investors and landlords. We have developed our Agent Referral Program to let you as a real estate agent focus on sales and rest assured that your clients have the care and support, they need with a professional property manager.
We have designed our Agent Referral program to give the same level of care and attention that you would give to your clients. We focus on having a full-service property management solution that takes care of the property and client from start to finish. This means that when you start working with your client again, the home will be as good as or better than when you left it.
Our pledge is to maintain the property and provide the best possible support to your client and smoothly transition them back to you once they are ready to sell.
And, in exchange for the referral, we pay our Realtor Partners a referral fee of $250.00 for each rental unit! Simply fill out the referral form with your information, your Broker's information, and the client information and we will follow up with them as soon as possible!
Let Qwest Property Management be your resource in property management. Contact us today to find out how we can mutually work together and combine our complimentary services.
Refer a Client Today!